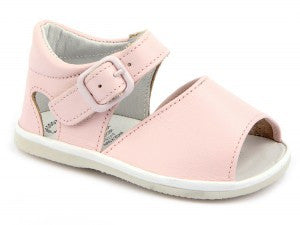 Casual Sandals Pink for Girls Leather Patucos Shoes
$ 45.00 USD
Pink leather buckle fastening sandals for girls. The perfect high quality sandals for spring and summer days. Flexible sole provides a very good support for ankle and foot, great for babies & toddlers on the move.

This sandal is made of high quality leather, ensuring comfort and durability. Easy to clean with a wet cloth. Very light materials and ergonomic soles to ensure stability in first walking babies.
Available in different colors; white, light blue, navy or pink.
 Spanish shoes are well known for using high quality materials and care in the manufacture of a comfortable and well finished shoe. Patucos collection offers handcrafted leather shoes including both traditional and modern designs for babies and toddlers.
Color: Pink
Sizes :1 to 5.5
Style: Casual
100% handmade
Made in Spain
Easy to clean with a wet cloth