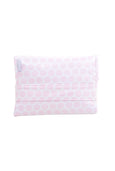 Full Moon Changing Mat
$ 14.00 USD $ 39.00 USD
Spacious and practical changing station made for any collection. Includes comfortable folding bag for use away from home.
Composition: 60% Cotton, 40% Polyester

Laminated : 100% P.V.C.

Washable

19.68" x 31.88"

Colors: light pink , baby Blue, grey and nut

Collection: Full Moon

Full Moon collection:
This modern and complete collection is made of pink full circles printed on white material decorated with bows of
the same material. Some articles have a laminated (bags, changing mat, etc.) plastic layer, useful for travelling or
going outside.