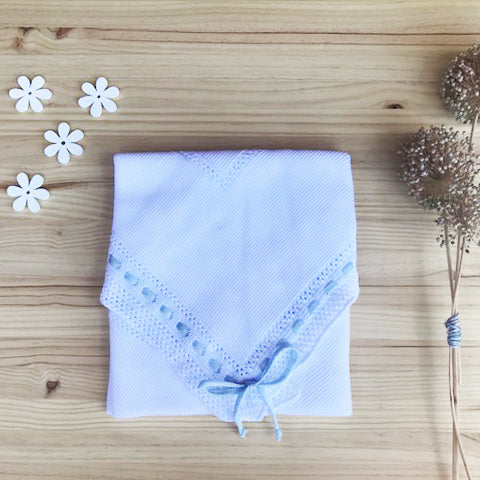 Cotton White Receiving Newborn Blanket Knit Extra Soft Light Blue Lace
$ 65.00 USD
Beautiful white cotton soft blanket that was made specially for warm weather to keep your newborn baby comfy but not overwhelmed. This blanket is terrific to be used during any time of the year. Its natural non allergic 100% cotton are perfect for newborns and babies.
As all Patucos products, this blanket is made of non allergic material that allows machine cold wash.
The blanket contains:

- High quality non allergic material
- Lightweight and light yarn knit
- Machine cold washable
-100% Cotton
- Light Blue Lace in the edges
Keep your baby comfy and protected from the sun or breeze.
For any order, this blanket will be gift wrapped with no additional cost:
- Gift paper white box 2 pieces
- Satin red/blue/pink/grey lace
Composition: 100% Cotton
Unisex

100% Machine Washable

Classic style

Imported from Spain

Colors available: Light Pink , Baby Blue, White/Pink, White/Blue

Size: 43in x 43in  (109cm x 109cm)